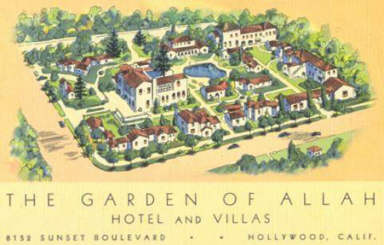 The Vanished Garden of Carnal Abandon
Garden of Allah, Sunset Boulevard, Hollywood

I'll make this quick. I know it's frustrating going places with me,
because I see what could have been, or what's implied, or what's missing, or
what used to be there. This is a 'what used to be there'.
Our story in Hollywood starts with Alla Nazimova, silent movie star,
silent movie producer, ultra-dramatic stage actress, cinematic visionary,
conspicuously lesbian social magnet, former concert violinist, and
accomplished international liar / effective self-publicist. When sound arrived,
Nazimova perceived that financial diversification might be good, so she
converted her well-situated 1921 mansion estate into a three and a half
acre semi-tropical hangout. She retained a private apartment upstairs in her
former mansion, with the bottom story converted into a restaurant and bar.
The property became a complicated and romantic collection of Spanish-style
bungalows and detached apartments, 25 villas were constructed around the
pool. Cheap, yes, but designed with drama and scale. And of course
Nazimova kept the pool; shaped like the Black Sea. This was January, 1927.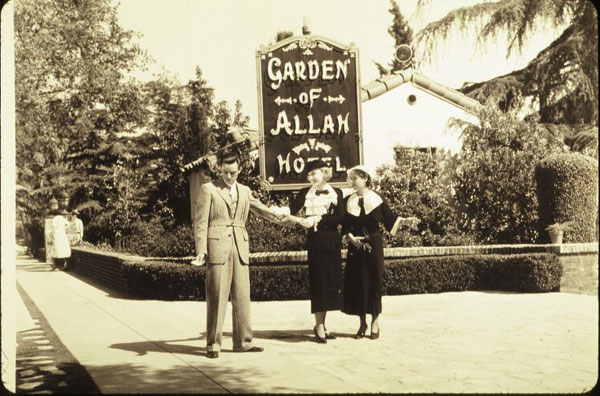 Nazimova's lesbian tatting circle and the financially catastrophic
pursuit of her cinematic vision are tempting but off-topic. She'd played
opposite Valentino as Camille! Valentino married two of her ex-girlfriends
with a brief sloppy overlap for which he was jailed for bigamy! She studied
in Moscow with Stanislavsky! No, no, to stay on-topic, the important thing is
that her Garden of Allah was bankrupt within a year. It was taken over by an
outside operator who raised the rents. Nazimova stayed. As a tenant.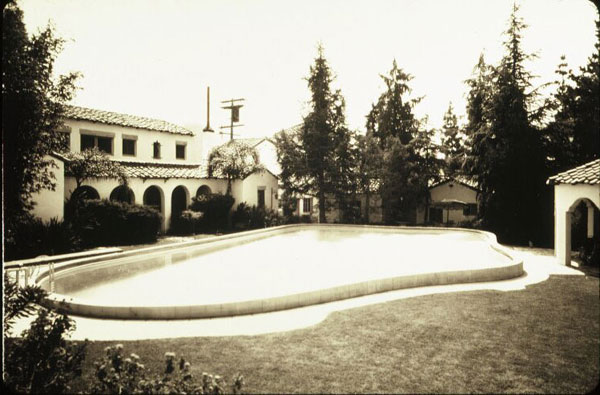 Then a few people came over to stay. People like Gloria
Swanson, Greta Garbo, John Barrymore, Clara Bow, Buster Keaton, Ramon
Navarro, the Marx Brothers (especially Harpo), Ava Gardner, Errol Flynn,
Humphrey Bogart, Lauren Bacall, Ernest Hemingway, Lillian Hellman, Joe E.
Lewis, Artie Shaw, Marlene Dietrich, George Kaufman, Laurence Olivier.
Those people.
And hundreds of other names maybe, who knows. Not
everybody who went to the Garden of Allah wanted to be seen there.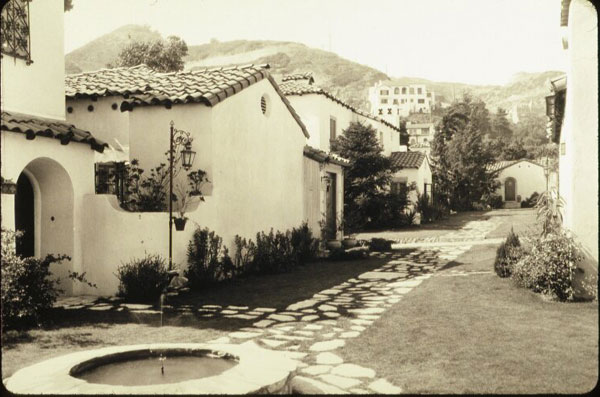 Somehow, among the tangle of phony marriages, the fist-fights, the
volume of liquor especially all through Prohibition, high-powered and
insecure and spoiled celebrities, tons of recreational sex, other tons of drugs,
robberies, drunken rages,
cross-gender liaisons, the black frustrations of writers (and others) having
their souls eaten by the Hollywood system, orgies, more robberies, simmering
feuds, money problems and sudden changes of plan, the Garden of Allah
acquired a bohemian reputation. A reputation for hedonism. Imagine that.
That reputation grew progressively less
glamorous through the property's 30-year decline, and towards the end its
arcades and arched alcoves among the thick poolside tangle of orange trees,
palms and hibiscus were more likely to be concealing a curled-up junky than a
grinning, cursing, naked Carole Lombard.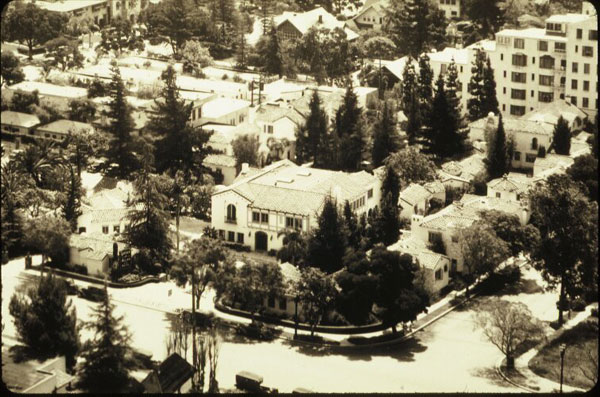 Famously, F. Scott Fitzgerald lived here in the beginning of his
Hollywood decline. Zelda was installed in an expensive sanitarium
somewhere back east, their daughter Scotty in public school, and a recently-
recovered trove of studio material indicates that Scott was really working.
(Everybody seems surprised that he cranked out more than 2000 hand-written
pages in pencil.) Scott lived here in those years just before dating the young
pastry named Sheila Graham and trying to finish The Last Tycoon and
struggling to make sense of studio employment and fighting an uphill battle to
stay sober by drinking a lot of Coca-Cola. In fact, Graham wrote a book-
length book about the Garden of Allah, called 'The Garden of Allah."
George Kaufmann stuffed himself in the back of a laundry truck to
get from the Garden of Allah to the railroad station at the height of the Astor
affair, to avoid a subpoena. (That's another story.)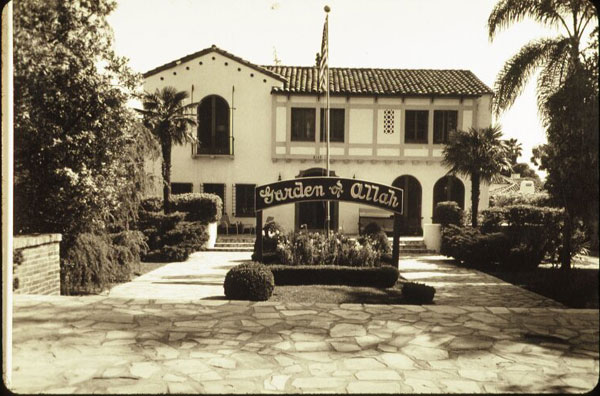 Robert Benchley set up his temporary Hollywood residence in the
Garden of Allah, among other east coast writers when they came out west to
torture themselves with illusions of quick easy movie cash, their anxieties
uncoiling in the permissive climate. Benchley was leery of traffic and called
taxis to take him everywhere - for instance, to Schwab's Drugstore, directly
across Sunset Boulevard. The site across the street is now a Virgin
Megastore. Looming over the Strip out there across the street is Chateau
Marmont which, come to think of it, was built in 1929 and must have always
overlooked the Garden of Allah.

Harpo Marx moved into the Garden of Allah some time in the late
20's when he first came to make movies. Harpo had thin walls. A lot of
people mention the thin walls. After Harpo set up housekeeping
and grew a sense of ownership, he got a new neighbor whose hours didn't
coincide with Harpo's hours, and who played the piano, and who wouldn't
shut up even after Harpo banged on the wall, etc. So Harpo set the alarm clock
early one Saturday, tuned up his harp, and played the first 64 bars of
Rachmaninoff's Piano Concerto #1 as loud as he could, over and over and
over, until his fingers bled, probably getting it wrong because he was self-
taught, over and over and over all morning and into the afternoon, until he
heard his new neighbor scream in strangled anguish and bang around like he
was packing up, slammed his door, and disappeared, never to be seen again.
A lot of effort, Harpo thought, but well worth it to be rid of such a nuisance.
Then somebody told Harpo that his new neighbor the piano player was
Rachmaninoff.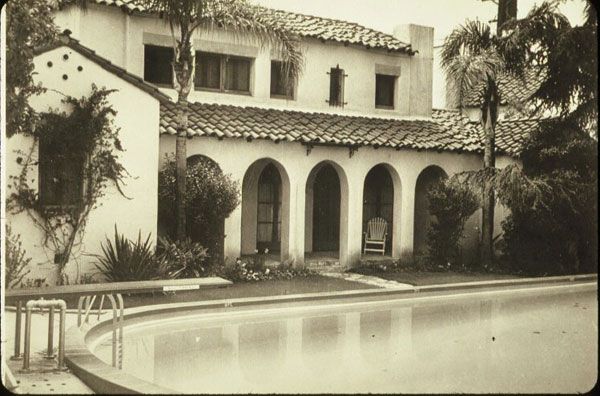 Where exactly? Southwest corner of Sunset Blvd and Crescent Heights Blvd.
The site is now a Washington Mutual bank and strip mall at 8152
Sunset Boulevard. There's a full-size replica of the Garden of Allah in the
Universal Studios theme park in Orlando. The Joni Mitchell's song "Big
Yellow Taxi" ("pave paradise, put up a parking lot") is supposed to be about
the Garden of Allah, oddly, because Buffalo Springfield's song "For What It's
Worth" is partly about the closing of Pandora's Box in 1966 to widen Sunset,
right across the street. Close by is also where society & S&M photographer
Helmut Newton was killed in a one-car crash, rolling out of the Chateau
Marmont in his silver Cadillac SRX.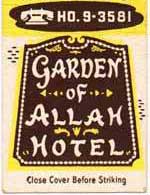 Update from October 2007:
Reader Rick Rosen emails in a Rachmaninoff correction --
Harpo tells it a little differently...I found his version online:

"My little bungalow in the Garden of Allah was a peaceful retreat. It
was the best place to practice I ever had - until a piano player moved
into a bungalow across from mine and shattered the peace.
I was looking forward to a solid weekend of practice, without
interruptions, when my new neighbour started to bang away. I couldn't
hear anything below a forte on the harp. There were no signs the
piano banging was going to stop. It only got more overpowering. This
character was warming up for a solid weekend of practice too.
I went to the office to register a complaint. One of us had to go, I
said, and it wasn't going to be me because I was there first. But the
management didn't see it my way. The new guest, whose playing was
driving me nuts, was Sergei Rachmaninoff. They were not about to ask
him to move.

I was flattered to have such a distinguished neighbour, but I still
had to practice. So I got rid of him my own way.

I opened the door and all the windows in my place and began to play
the first four bars of Rachmaninoff's Prelude in C sharp Minor, over
and over, fortissimo. Two hours later my fingers were getting numb.
But I didn't let up, not until I heard a thunderous crash of notes
from across the way, like the keyboard had been attacked with a pair
of sledgehammers. Then there was silence.

This time it was Rachmaninoff who went to complain. He asked to be
moved to another bungalow immediately, the farthest possible from that
dreadful harpist. Peace returned to the Garden.

I didn't really know until much later how sharp my intuition had been.
I found out that the great pianist and composer detested his Prelude
in C-sharp Minor. He considered it a very Minor piece of work. He
was haunted by it everywhere he went, by students who butchered it and
by audiences who clamoured for it, and he wished he'd never written
it. After playing the damn thing nonstop for two hours I knew exactly
how he felt."
This story is from the wonderful autobiography Harpo Speaks. My apologies.

Copyright 2004-2010 Walt Lockley. All rights reserved.
Photographs from http://gardenofallah.com/GOA_original.htm